Personalize Your Special Occasion
Whether its a milestone anniversary, birthday, family or class reunion, graduation or a wedding, or almost any other special event, using items that have a family connection can make your day all that more special! Also, displaying family mementoes is a great way to share your history and honor your past with your guests.
We've seen all kinds of tributes at Country Lane Lodge Wedding and Event Venue in central Iowa. In the image above, a grandmother's lace tablecloth is perfect for the cake table. Other ideas we have seen include:
A collection of lanterns a departed father collected used as table decor-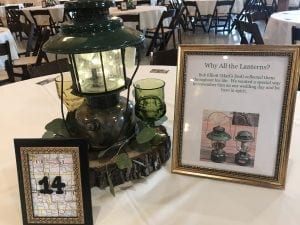 The suitcases grandparents used on their honeymoon serving as the card box–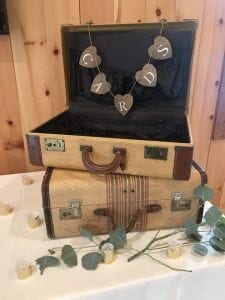 There's no limit to how you can integrate your family mementoes into your special occasion and create an even more meaningful event.  Contact us and we'll help bring your vision to life when you reserve space for your next event at Country Lane Lodge.
We are able to host all types of events including weddings, wedding dinners, holiday parties, corporate/business meetings, club meetings, concerts and fundraisers. That's what makes us Central Iowa's Best Wedding and Event Venue!