Rustic Charms with a Personal Touch
Birthdays, Graduations, Anniversaries, Holiday Parties, Weddings – you name the special occasion and we can help you create amazing card and gift tables that will make the event all your own! There are many different options for a personalized gift table or card table.  Unique items that fit with your theme or have a family connection will help make your table more personal.
Examples of personalized tables include the grandparents' honeymoon suitcase used as a card box pictured above. Another idea is the parents' water pitcher and a metal bin from the family farm pictured below. Each personal touch you add makes your event all that more special for you and your guests at Country Lane Lodge Event and Wedding Venue!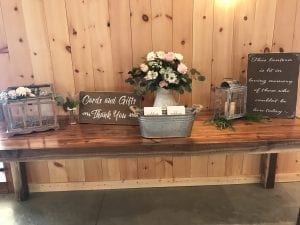 Contact us to reserve our venue for your next event at Country Lane Lodge.
We are also able to do all kinds of events from concerts and family reunions to corporate meetings, fundraisers and more. That's what makes us Central Iowa's Best Event Venue!